The ever popular Gram Weenie Pro was designed By George Carr formerly of ( End 2 End Trail Supply).


The GWP was designed to boil 16 oz. of water in the smallest, lightest, and most durable design possible.


The GWP like the BS 1.0 and 2.0 is a two piece design that utilizes a conical inside wall that adds vertical strength.

The rim has a smooth rolled edge to seal the two together and provides horizontal strength.


Although the two piece design is more labor intensive it makes for a stronger more durable stove and will provide a lifetime of use.
George has moved on and is now the owner of LOCO LIBRE GEAR


Makers of fine Top quilts and Under quilts for the Hammock enthusiast.


Loco


http://www.locolibregear.com


George and I met at Hang Con in 2016 and we quickly became friends sharing the same interests in life. With George's Blessing I am grateful to be able to offer you The Gram Weenie Pro!

Aluminum bottle stove

No Rivets Epoxy or Adhesives

Very Strong can support 200lbs.

1.75 in. tall x 1.75 in. dia.

Weighs .58 oz. (16.5 grams)
TIP : For Fast blooms and to conserve fuel I suggest
adding the cold weather wrap.

Select desktop version if pull down options do not work on mobile device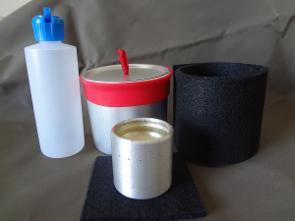 Note: All Cook Kits include a GWP with CWW Not Shown, If you would like with out please let me know.

Save up to 10% with a Cook Kit

Batchstovez 12oz. Cook Pot w/Lid or Soda pot kit

Anodized finish

Gram Weenie Pro stove w/ CWW

Carbon Felt Windscreen 3 x 15
Heat shield

4 oz. Flip top fuel bottle
1' Silicone Lip Guard
Instructions
Total weight 84g ,124g, 155g without fuel.
Select desktop version if pull down options do not work on mobile device
Reusable Aluminum ring w/Lid
1" Silicone band
Soda Pot comes with a reshaped bottom

Instructions
Total weight 28.6g with can

A great Ultralight cook pot for those who count every gram . Inspired by the Gram Weenie Pro. Easily replace your cook pot on the trail if needed Holds 12 oz.
It doesn't get much lighter than this.
Note: Lid has print on one side

Select desktop version if pull down options do not work on mobile device