BS 1.1 Adjustable flame stove

The Batchstovez 1.1 Adjustable Flame stove is one of the easiest Alcohol
stoves you will ever use. Simply add Alcohol to the center, open the
vents and light and your ready to use. No priming or waiting for the
stove to bloom.

The BS 1.1 adjustable flame alcohol stove
gives you the option of

preparing more favorable meals that need to simmer or bake By simply

closing the vents.

I think you will find this stove to be versatile and easy to use as any

stove availible. Great on the trail or while at camp.
BS 1.1 Adjustable flame stove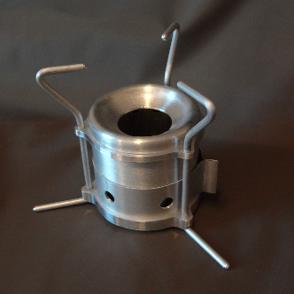 Aluminum bottle design

Integrated pot stand made from Aluminum

3" tall x 2" dia.

Adjustable flame allows you to Bake and simmer.
1 oz. fuel capacity
Carbon felt lined inter chamber

Can be used with a Imusa Mug or any flat bottom pot.
burns 25 to 40 min on 1 oz.

boils 2 cups in 8 to 12 min.
Total weight under 2 oz.